Say goodbye to Dingle,

Oh dingle you cute little Atlantic soaked tourist trap, mountains at your back. The hostel full of hikers, bikers, campers; fun. We've made you sing a cheap song for us goodbye and thanks.
Ireland is the opposite of India. Only a little construction but buildings hundreds of years old immaculately maintained. India, a beehive of construction but a 5 year old building is dirty and crumbling.


On the way out of dingle we went to paddy's bike shop. It was a big as a large closet. I bought four esoteric items. He had them all and barely moved to get them for me. Cash from pocket perfect.

The ride from Dingle to Inch Beach was a steady uphill on a major road, though the views were also steadily improving. The traffic was distracting. The people here are mostly very polite with cyclists but the tour buses are wider than the road i think. Exciting...no,. hair raising! Joyce is adapting well to biking here though she is sure we will die soon.

Inch beach is the Daytona of the area. We met Sue who loved our bicycles. She said she never envied anyone their possessions but envied their experiences. She was lots of fun. I think she was from Britain and she married a big gruff, fun Irishman; friction on every level. Talking to them was a riot - everyone is a fountain of helpful knowledge.

A tour bus full of Frenchmen came, so we left inch beach after a long and another cup of the famous seafood chowder (#7 for me). We wet our feet in crystal clear Atlantic ocean water, enjoyed dogs and babies and headed down the road again.

The trip from inch to Murphy's farmhouse b&b was more of the same,. Slow steady climb on a relatively heavily traveled road. Not unpleasant, just traffic distraction. The b&b was a real working dairy farm. We put our bikes in their working cow building. It was much more elaborate than a barn. Charlie got a kiss from a big calf, just after he licked his own nostrils. Friends for life. He said the cow smelled like slightly fermented grass.

We met three generations of female Murphy's at breakfast, all delightful. B&b type lodging seems to really suit the people here. Open your home to welcome new people, treat them like royalty with lots of interesting conversation, then on your way...roll wheels roll!
-Mark!
Powered by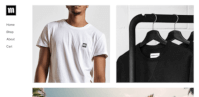 Create your own unique website with customizable templates.